Are you using Pinterest to try to drive traffic back to your website or blog?
Then you definitely want your content comes up in the Pinterest search results when pinners are looking for new stuff to pin.
One of the best ways to get found in the Pinterest search results is to include keyword-rich descriptions for all of your Pinterest pins. The description is just the little caption area underneath each pin, where you can add some text about what's in the picture.
Here's an example of a pin on Pinterest. The pin description is indicated by the red arrow.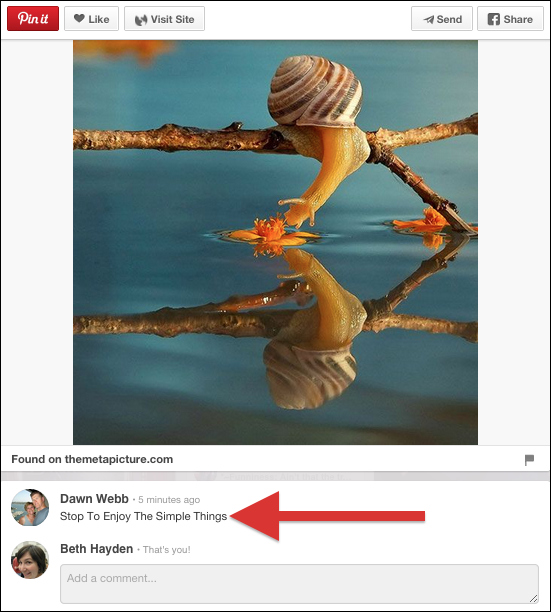 Let's take a look at an example.
If I want to pin an image from Brian Clark's new blog, Further.net, I'll use my trusty PinIt bookmarklet for my browser.
I'll choose an image from Brian's most recent post, How to Transform Yourself (Without Disrupting Your Life). Then, from within the bookmarklet pop-up box, I'll choose a board on which to pin the image.
Then, I'll see a box like the one below. I can edit or change the pin description in the area indicated by the red arrow.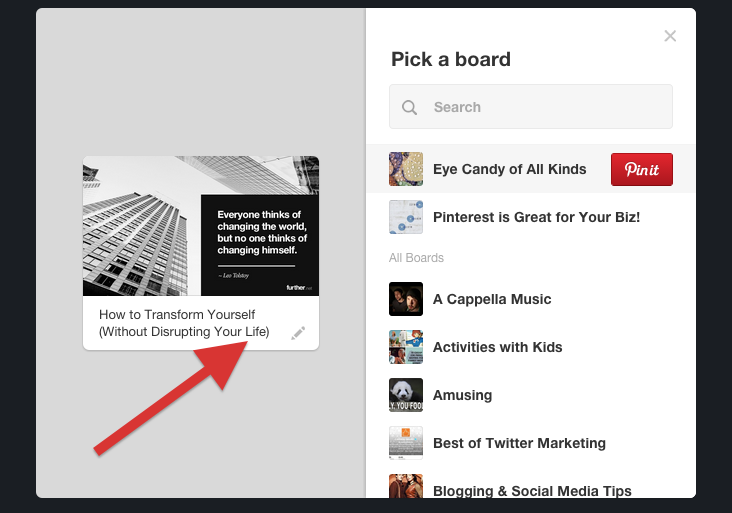 Here's what's interesting, though – it your visitors use the PinIt bookmarklet to pin images from your site, they are probably not going to bother to edit the description that auto-populates in that area. They're just going to pick a board, click "Pin It" and move on to the next shiny object they see online.
Here's why that is important for you –
If you want to get traffic for Pinterest, you must optimize your images for Pinterest, and add pre-populated pin descriptions that are search engine friendly. Since most pinners don't usually change or add pin descriptions when they pin your images, it's highly likely the original description will stay with that pin as it gets re-pinned to various boards all over Pinterest. So you want to get it right — right from the start.
And as it turns out, there's a quick and easy way for you to optimize every image on your site for Pinterest by pre-populating that "description" field.
Here's a quick little video that describes the process of how to add descriptions to your images when you're using WordPress.org. The process will be really similar on other blogging platforms.
If you want to see a larger version of this video, click here.
This is one of those quick little tips for Pinterest that might come in handy in you're using Pinterest to drive traffic back to your blog.
I'd love to hear how YOU use Pinterest (personally or professionally)! Tell me in the comments below what you like to do with Pinterest, and feel free to share a link to one of your favorite boards. It can be one of your boards, or someone else's!