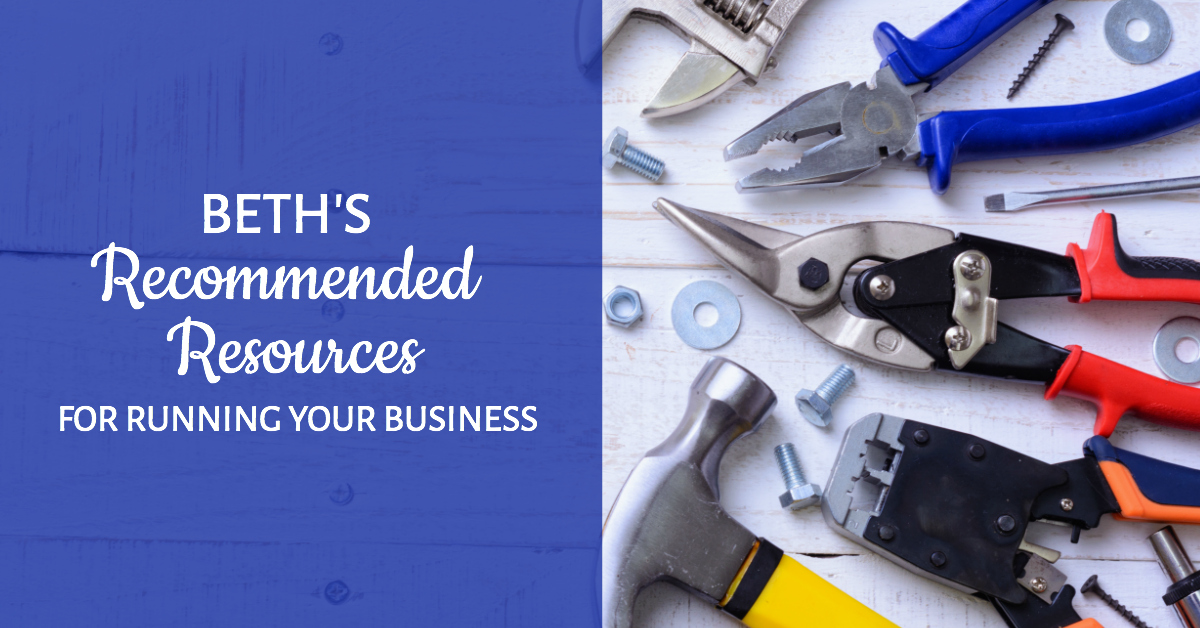 Welcome to the BethHayden.com Resources page – my curated list of the tools, websites and service providers I recommend for marketing (and running) your online business.
 I have tested every recommendation on this page, and many of the resources on this list are my go-to tools for running my own business.
Some of the links below are affiliate links, which means I'll earn a commission if you choose to make a purchase through one of the links. This commission comes at no additional cost to you.
That said – I recommend these resources because I have direct experience with them and find them highly useful (not because of the small commissions I make for referrals).
Okay – here we go!
Email Marketing and List Building
1. Need to start an email mailing list? AWeber and MailChimp are my two top recommendations for starting your list. Either of these email service providers will allow you to add opt-in forms to your website or blog, send an automated "Welcome" message to your new subscribers, keep track of your subscribers in a database, and help keep you legally compliant with all the national SPAM laws.
2, My absolute favorite tool for growing your email list (once you have your list set up with MailChimp or AWeber) is a service called LeadPages. LeadPages gives you a ton of easy-to-use templates for landing pages, webinar registration pages, and other opt-in forms for your website. Many of my opt-in forms and webinar registration pages typically convert at 50 to 60%, and that's because I use LeadPages templates. Totally worth every penny.
Website and Blogging Resources
3, If you need to start a blog, you should be using WordPress.org. Be warned – there is a difference between WordPress.com and WordPress.org, and WordPress.org is the one you want.
4. The WordPress.org software is free, but you will need to buy web hosting to run it. I recommend using Bluehost, a great WordPress-friendly hosting option for beginning bloggers.
5. Need someone to design and build a custom WordPress site for you? Bethany Siegler and Betty Taylor are highly skilled, ethical and fun WordPress service designers/developers.
6. If you need an ongoing WordPress guru who will return your messages promptly and not take weeks to do the tasks you request, Cathy Tibbles and her team at WPBarista are a great choice. Cathy is smart and affordable, and she won't disappear on you – promise!
7. Need an attractive, secure, mobile-friendly WordPress theme? Check out StudioPress themes (by Copyblogger).
8. To keep your website safe from malicious hackers, I strongly recommend signing up for a monthly WordPress maintenance plan with a qualified WP developer. Michelle Panulla offers cost-effective monthly plans that will keep your site backed up, regularly upgraded and safe from hackers.
8. E-junkie is an easy-to-use, simple shopping cart tool that connects directly with Paypal and handles physical products AND digital products equally well.
10. Jon Morrow's Headline Hacks report is the best collection of blog post headline templates I've ever seen. This report will help transform your ho-hum blog posts into traffic magnets. Opt-in required.
11. Another helpful guide from Jon is this useful and information-packed case study: A Step-by-Step Guide to Making Your Posts Go Viral. Opt-in required.
Guest Blogging Resources
12. Guest blogging has been a major marketing tool for my business for many years. I learned a lot of what I know about guest blogging from my mentor, Jon Morrow, and I highly recommend his Guest Blogging Crash Course.
13. If you'd like to start reaching out to other websites and blogs, to ask about guest posting opportunities, you need Jon Morrow's Big Black Book. The Big Black Book is a comprehensive collection of hundreds of websites and blogs that take guest posts. The entries are categorized by website topic, and each entry includes contact information for that site. It's a veritable gold mine for guest bloggers.
Stock Photo/Image Sites
14. One of the most common questions I get from my clients is, "Where do I find images for my blog posts and website pages?"
You always (ALWAYS) need to acquire royalty-free images for your blog or website – you can't just pull random images from the web or from Google images. If you don't have explicit permission to use an image and you put it on your site or blog, the people who own those photos can (and will) sue you for thousands of dollars.
These are my favorite sites for obtaining royalty-free (and legal) images for your site:
Other Helpful Tools, Websites and Service Providers
15. GotoWebinar is my #1 choice for running your own webinars. It's a reliable and easy to use webinar tool, and their technical support is fantastic. It's a little more expensive than some of the other webinar platforms out there, but it is absolutely worth the extra cost.
16. If you find yourself typing the same phrases or passages over and over, you need TextExpander. You can set up keyboard shortcuts (called "snippets") that allow you to quickly insert things like email signatures, answers to frequently asked questions from your clients, and even your credit card number! TextExpander has saved me hours and hours of time over the last few years, and I couldn't function without it!
17. FormatIt is a free online tool that formats a block of your text to a specified column width. If you need a skinny column of text (for plain text emails, etc.) this tool makes it easy to create by just copying and pasting.
18. Nancy Irish is a reliable, fast and affordable transcriptionist, and you can hire her through UpWork. Tell her I sent you!
19. I use Dropbox to save and share all my business files and documents. It also makes collaboration super easy by allowing you to set up shared folders between you and your partners or clients.
20. I create all my instructional videos (for my online classes) using a screencasting tool called Screenflow. It allows you to record whatever is happening on your screen (like a tutorial, Powerpoint presentation, etc.) and records your voiceovers at the same time. It's a slick and easy-to-use tool for creating and editing professional-looking videos.