One of the most common questions people ask me during speaking engagements and webinars is:
How often do I have to publish blog posts on my site?"
There is often a hidden question within this query, though.
Sometimes I get the feeling people are really asking, "What is the absolute bare minimum I need to do, to create a successful blog?"
That is a slightly tougher question, of course, and one that requires me to ask a lot of follow-up questions about the person's target audience, their niche, how much time they have to dedicate to marketing, etc. etc..
And just to be clear – there are no "right" answers here. There's a huge spectrum of what constitutes "right," "good," or "ideal" when it comes to blogging.
But as a beginning blogger, or someone who has been blogging for a little while, you still need a number. You want a number to use as a guideline.
So in that spirit, I'll do my best to answer the question.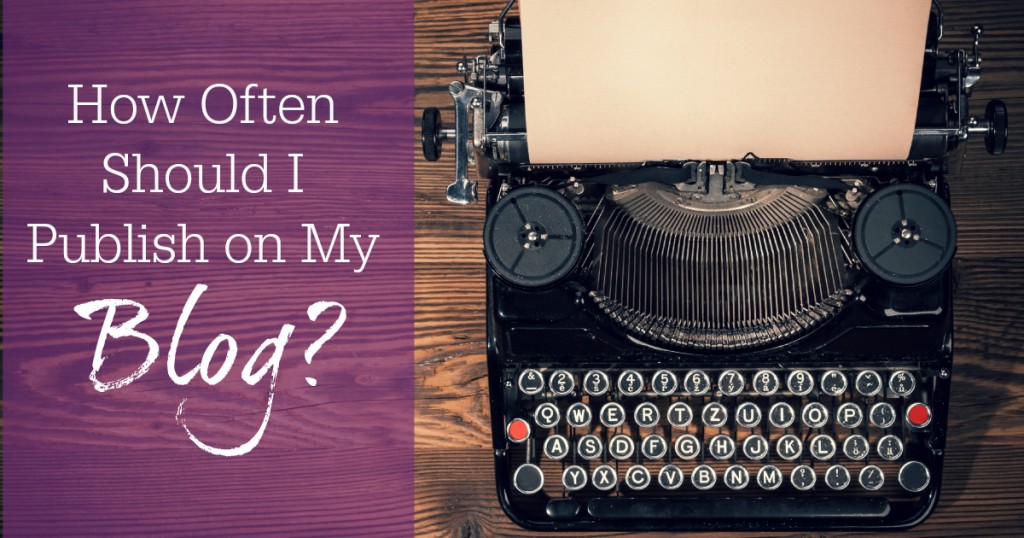 I Used to Tell People to Publish a Lot
Six years ago, when I first started coaching people who wanted to create popular blogs, I would give them a really clear, simple answer to this question.
My answer was, "You should blog at least 3 times a week – or more, if you can."
Back when blogging first become popular, publishing often was a good way of attracting traffic. One of the ways to get the search engines to notice and rank you was to publish a ton of content (even if some of that content wasn't very high quality).
I told those bloggers – publish a lot on your blog, even if the posts are short.
Fast forward a few years. Around 2010, it was starting to get harder to attract traffic as a beginning blogger.
It was still important to publish content on a regular basis, but publishing 3 or 4 times a week wasn't the magic bullet it used to be.
So around 2010, I started telling people, "Publish as much as you can without killing yourself. If that's twice a week, great. If that's once a month, that's fine, too."
My Current Answer to This Big Blogging Question
Today, when people ask me this question, I give a very different answer.
Now I say:
"You should focus on quality, not quantity. Publishing one truly amazing post once a month will get you far better results than publishing crappy posts every day."
In pretty much every niche, across all industries, what readers really want is high-quality content that answers their questions, teaches them something, or entertains them.
So before you sit down to write a post, I want you to give some thought into coming up with a top-notch idea for a post. Ask yourself:
Is this post going to teach my readers something they didn't know before?
Is this an original idea (even if it's simply a new spin on an old idea)?
Is this idea compelling and interesting for my ideal reader?
If it's not, take some time and brainstorm some new ideas, until you come up with one that is truly high quality.
And don't publish a post just because you feel like you're "supposed" to publish something on a particular day. It's better to publish a post a little bit late (and make it great) than create a low-quality post that you're rushing to publish.
Taking the attitude of "I was supposed to put up a post today, so I just slapped something together" is a good way to get yourself exiled into Google purgatory.
Always Focus on Quality Over Quantity
Here's my best advice: Write really good blog posts.
If you publish a great post once a week, that's great. If you only publish a high-quality post once a month, that's okay, too.
When you focus on the quality of your quality of your content, the following things will happen:
Your search engine rankings will rise
You'll be more likely to rank for the terms you really want to rank for
Your readers and subscribers will appreciate your content far more
More of your readers will share your content on social media and comment on your posts
That's my best answer to this difficult blogging question. Next up, I'll tackle another difficult online marketing query:
How long should my blog posts be?"
For now, I want you to go out there and write the best possible content you can — even if that means giving up your regular three-times-a-week publishing schedule.
I give you permission to focus on creating amazing, attention-getting, praise-worthy content, and to create that content on whatever schedule works for you.
Do that, and everyone wins.