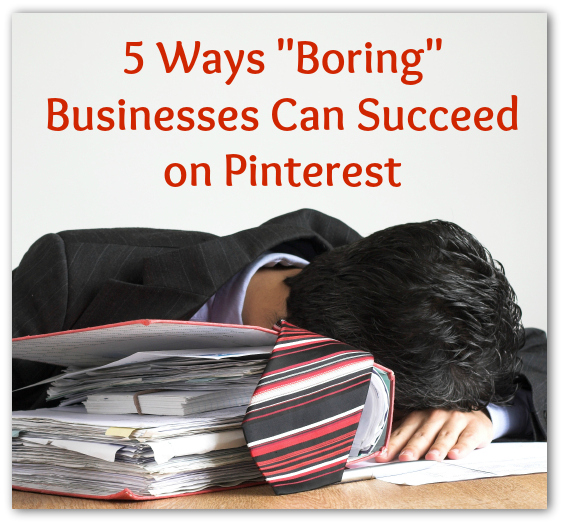 Tons of marketers are benefiting from using Pinterest to help sell their products and services. But as an online marketing coach, I've also discovered that some businesses hesitate when it comes to Pinterest marketing. When I inquire about why they're not sure about Pinterest, the answer usually looks something like this:
"How can this work for me? I'm not a food or travel blogger. I run a traditional business that doesn't lend itself to a lot of visual content. Can Pinterest work for visually 'boring' businesses like mine?"
Manufacturing, IT, finance, non-profit and B2B organizations are often particularly skeptical about Pinterest – but there are plenty of effective and interesting ways to use Pinterest in these industries, too!
What Pinterest is (and isn't) about
Here's what you need to know:
Pinterest is NOT just about travel photos, inspirational quotes and mouth-watering recipes. It's just like any other social networking platform, in many ways – if you publish content that people enjoy and find useful, it will help you build trust with your prospects and make sales.
If you're using social networking sites to market your business, your primary goals are increasing visibility for your brand, encouraging people to share your media, and getting people to like and trust you. And here's the good news – a fun, thoughtful, and likeable Pinterest presence can help you with all three.
I want you to picture your Pinterest account like a scrapbook and bookmarking site, rolled up into one. Yes, you'll need to share compelling images, but you can also share useful information – particularly information that teaches people how to do something. Pinterest users spend time on the site to dream about exotic vacations — but also to learn. Learn more about usefulness on Pinterest (and why it's important) by reading my recent post, "The Secret to Dominating Pinterest."
Your job is to collect content on your pinboards that is useful, interesting or entertaining for your target audience. Sometimes that content will be pinned using a beautiful image of a sunset or idyllic family scene – but in many cases, it will pinned using an infographic or other image. Bottom line — lovely images help on Pinterest, but they're not the ONLY thing that matters.
Now that you're clear on what Pinterest is about (and what it's not), let's dive into some ideas, suggestions and examples to get you started with marketing your "boring" business on Pinterest.
1. Make your website compelling and pinnable.
The best that you can do on your website is create content (podcasts, videos or text) and include pinnable images in that content. Interesting content on your site will help you draw pinner away from Pinterest and on to your site.
Remember – content marketing is all about MEDIA – so think about what kind of sharable media you can create that will help you reach your target audience. For tips on creating compelling content, check out Content Rules: How to Create Killer Blogs, Podcasts, Videos, Ebooks, Webinars (and More) That Engage Customers and Ignite Your Business by C.C. Chapman and Ann Handley. This book is my textbook when I work with my clients.
Every piece of content that you publish on your website should include an image — that means every blog post, website page, catalog page, etc.. And of course, you want to make sure all your images are pinner-friendly, so your readers and customers can share your content for you.
If you're interested in creating cool badges (like the one at the top of this blog post) for your content, you can use Canva, a free online graphic design tool. You can use Canva to find stock images, crop or resize photos, add text to images, and lots more.
One of the upcoming articles in this series addresses the question about how to optimize your website images for Pinterest. But for now, the most important things you need to remember are:
Make sure all your images are pinnable
Include a "Pin It" button on every page and post on your site (get a free button from the folks at Pinterest)
2. Practice outstanding content curation.
In order for you to grow your presence on Pinterest, you will need to do more than just pin your own content. You'll want to become a content curator, and pin content that your audience truly wants and needs.
What is content curation? Beth Kanter of BethKanter.org, social media consultant for creative nonprofits, defines it in this way:
"Content curation is the process of sorting through the vast amounts of content on the web and presenting it in a meaningful and organized way around a specific theme. The work involves sifting, sorting, arranging, and publishing information. A content curator cherry picks the best content that is important and relevant to share with their community. It isn't unlike what a museum curator does to produce an exhibition: They identify the theme, they provide the context, they decide which paintings to hang on the wall, how they should be annotated, and how they should be displayed for the public."
Being an online curator means that you pick the best content on the Web – the most compelling images, inspiration, resources and ideas – then thoughtfully organize that content in a beautiful way for the benefit of your core audience. You cherry-pick all the best pieces of what you're learning, researching and collecting, then wrap it all up in a visually-friendly way for your readers and followers.
And yes – practicing great content creation means you will be pinning more than just your own content. That's okay! Your job is to be a resource for your customer or client. Oreck, the vacuum cleaner company, regularly pins their own products and content, but they also have boards on holidays, crafts, recipes and party planning that appeal to their target audience (which is primarily women).
One quick tip for content curation: If you bookmark a website or blog post in your browser (so you can go back and find it later), ask yourself, "Would this be of interest to my reader/customer?" If the answer is yes, I want you to strongly consider adding it to one of your Pinterest boards.
3. Talk about what you do in a Pinterest-friendly way.
As you're practicing content curation, you can also mix in pins that help you talk about your own products and services. But the trick (especially if you have a "boring" business) is to talk about what you do in a way that will appeal to Pinterest users.
We know that Pinterest users love recipes, travel, and inspiring quotations. But there's also a huge audience on Pinterest for things like technology, culture, tutorials, science and business advice. To succeed on Pinterest, you need to figure out a way to talk about your business in a Pinterest-friendly, accessible way. Think about how you can pivot your area of expertise a little, and see if you can work your content into some of the popular topics on Pinterest.
General Electrics does a spectacular job at making their company "cool" on Pinterest. They have created boards like "Badass Machines" (which is filled with images of the biggest and baddest technologies produced by GE) and "Gifts for Geeks" (which features gift ideas for geeky friends and family). Check out all the GE boards here.
4. Showcase your company's personality and culture.
Your business has a unique personality – make sure you're letting it show on Pinterest! People do business with people they know, like and trust — and you can prove your likability by using Pinterest's visual tools.
You can use Pinterest to give a human face to your company through your pins and boards — so feel free to highlight the cool, fun, interesting and unique things about your company!
You can pin things like:
Company events
Employee photos and profiles
Behind-the-scenes pictures and videos
Client case studies and testimonials
Job openings
Company news
Your mascot or branding color(s)
Your founding story
HubSpot, an online marketing software company, has a fantastic Pinterest board called "HubSpot Culture Code" that features quotations, excerpts and images from their Culture Code slide deck (a collection of slides that spells out their customer philosophy and values). This board gives Pinterest users a sneak peek into what it's like to work at HubSpot — which helps the company build trust and loyalty with their prospects and clients.
5. Use Pinterest as a portal to all of your business's online content
You can use Pinterest as an online hub that includes links to all of your online marketing content. Because you can link to anything you want to (and because Pinterest is a great way to show content visually), it's totally possible to use Pinterest as a showcase for any of your other online marketing content.
Think about including links to your:
Videos
Slide decks (on SlideShare or elsewhere)
White papers
Webinars and teleseminars
Links to content on other social media profiles (Twitter, Facebook, Linkedin, etc.)
Downloadable materials like free reports, white papers, audio or videos freebies, online courses.
Membership site information
Mark Johnson, a marketing and communications professional, uses one of his Pinterest boards as a portal to all his other social networking profiles (including LinkedIn, and Google+). His calls this board his "infographic resume." Smart, huh?
BONUS TIP: Don't be afraid to lighten up.
Pinterest is a powerful marketing tool, and it can be a great part of your online toolbox. But just remember – Pinterest is also FUN. If you can create lighthearted or funny content, it can only help you — and you may find that some of your funny pins are the ones that get passed around the most!
Mr. Rooter, the plumbing company, lets its fans submit hilarious photos of their mascot action figure in different locations, then pins those photos to their "Where in the World is Mr. Rooter?" board. AmeriFirst Home Mortgage even has a Pinterest board for zombie home buyers!
Your turn to shine on Pinterest
Even if you don't have a business that lends itself perfectly to visual content, you can still succeed on Pinterest. With a little ingenuity and creativity, even "boring" businesses can get a great return on investment from Pinterest. So dive into the pinning world, and have fun – it will pay off in terms of relationship building, website traffic, and sales!