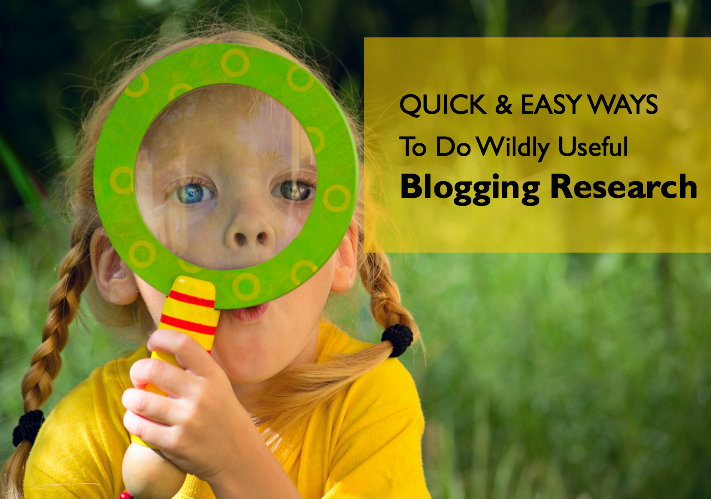 Want to know the fastest, easiest way to discover the most popular content in your blogging niche? Do you want to find out exactly who is sharing that content online?
You could do research on Twitter or Facebook, but sometimes it's difficult to figure out exactly what you're looking for (and if the results you're getting are actually accurate).
That's why I recommend using BuzzSumo to do your blogging research.
BuzzSumo is an online tool that can help you with three major things:
Content Research: Search for the most popular content on any particular topic.
Influencer Research: Find out which influencers, popular bloggers and journalists are sharing the most content related to your topic.
Research on your Competition: Discover which of your competitors' blog posts are gaining traction online.
Here's a tutorial on how to use BuzzSumo to conduct useful research in these three areas.
Content Research: Looking for most popular content on a topic
Start by going to BuzzSumo.com. Type your blog topic into the search bar across the top of the screen, the click the "Go" button.

I searched for the phrase "email marketing" for this example, but you can also search for a single word.
When you see your page of search results from BuzzSumo, you can also filter those results using the options on the left side of your screen.

I filtered out everything except Articles and Guest Posts, and got these results for my search term. What BuzzSumo is showing here is a list of the 10 most-shared articles on email marketing (click on the image to see a larger view):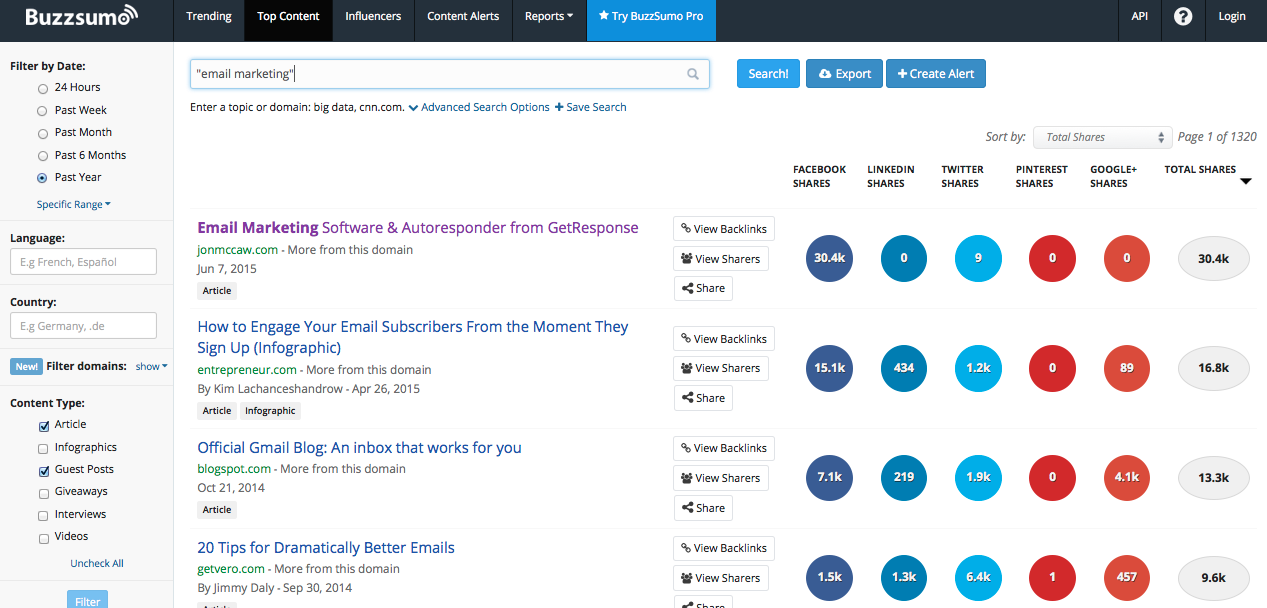 Here's how to use this information: You can use this information to identify subjects that have broad appeal, based on how many times they have been shared on social sites.
These topics can help you fill in your editorial calendar, pitch winning ideas for guest posts, get ideas for social media content, and keep on top of trends in your industry.
Influencer Research: Find people who have shared content on your topic.
Once you've done your initial search, click the "Influencers" tab to see people who have frequently shared blog post and articles about your topic.

If you want to know more about the kinds of links that influencer has shared, you can dig deeper by clicking the "View Links Shared" button next to each person's name.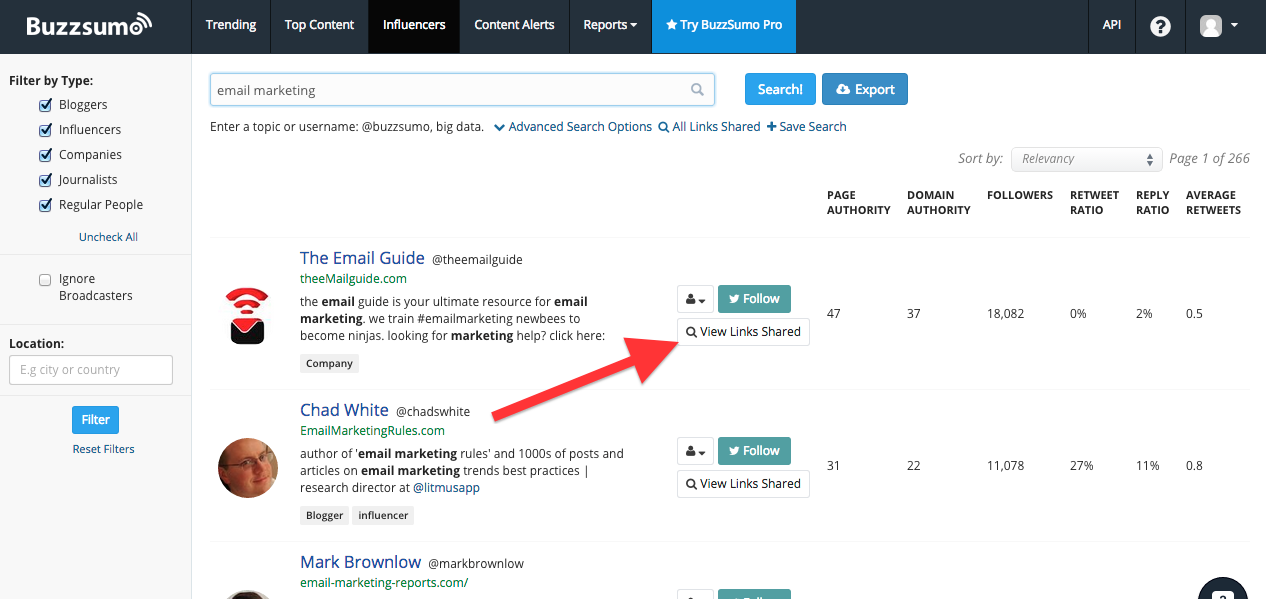 Here's how to use this information: One of the best things you can do to promote your blog posts is ask influencers and popular bloggers to share your content for you.
BuzzSumo's "Influencer" search lets you find influential people who have shared content on your topic (and even gives you the direct links to their blogs and Twitter profiles, too).
To find out more about how to conduct a successful blogger outreach campaign, read this great article on BoostBlogTraffic.com.
Competitor Research: Find out which blog posts on your competitors' sites are most popular
You can also enter a domain name into BuzzSumo's search box, to do a little (legal) spying on your competition.
When I did a search for "contentmarketinginstitute.com," I got these results: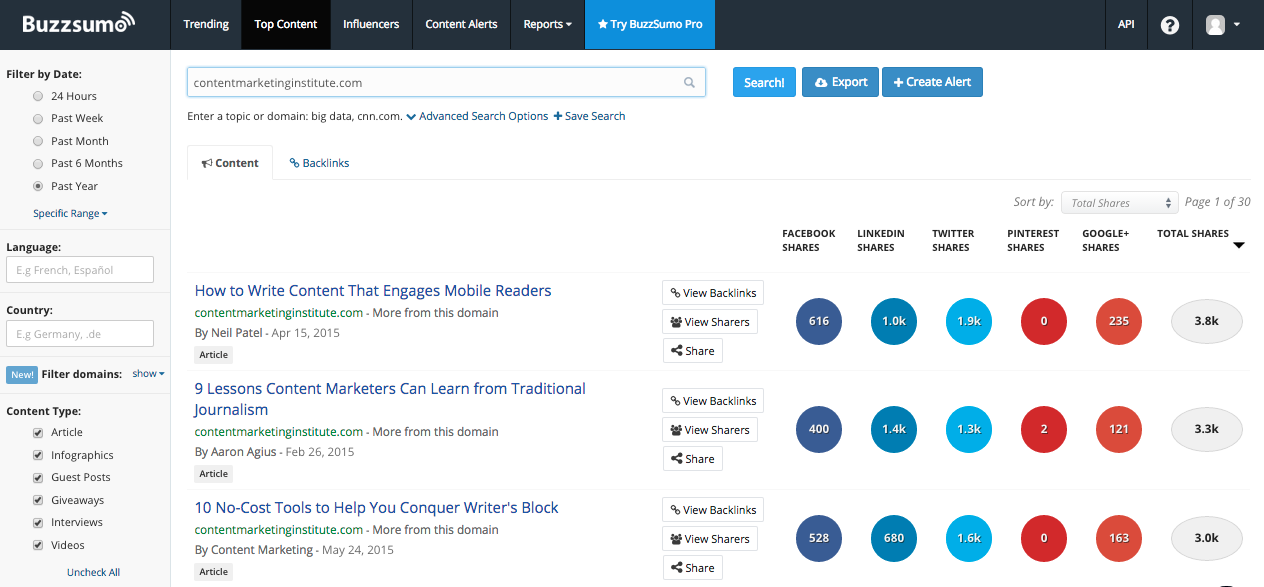 Here's how to use this information: It's important to know what your colleagues and competitors are doing (and what content is gaining traction with your target audience).
This information can help you build your editorial calendar, come up with ideas for new products and services, and gain a better understanding of what kinds of content your target audience needs.
Pay special attention to the headlines of these popular blog posts — if you mine this data regularly and intelligently, you can seriously increase your chances of picking blog post headlines that go viral!
You can also run a search on your own site, and find out which of your blog posts have been shared most often. ☺
Adding BuzzSumo to Your Online Marketing Research Toolbox
BuzzSumo is a "freemium" tool, which means you can use some of their services for free, then get access to more options and tools if you pay a monthly fee.
And just to let you know, BuzzSumo will prompt you to create a (free) login and password once you've done a few initial searches. When you've got your free account set up, you can do as many searches as you want.
BuzzSumo's data isn't 100% accurate all the time. When I ran searches for my BethHayden.com site, I did notice some discrepancies between BuzzSumo's social sharing data and the counts I'm seeing on my WordPress social sharing plugin.
What's important is that you look for overall trends in the data. What kinds of headlines and topics are working well for your audience (and which ones aren't gaining much traction)? Which influencers are most likely to share the kind of posts you write on your blog?
BuzzSumo can give you loads of helpful information, and it's absolutely worth taking it for test drive. Try it today, and let me know what kind of helpful information you find for your own online marketing journey!