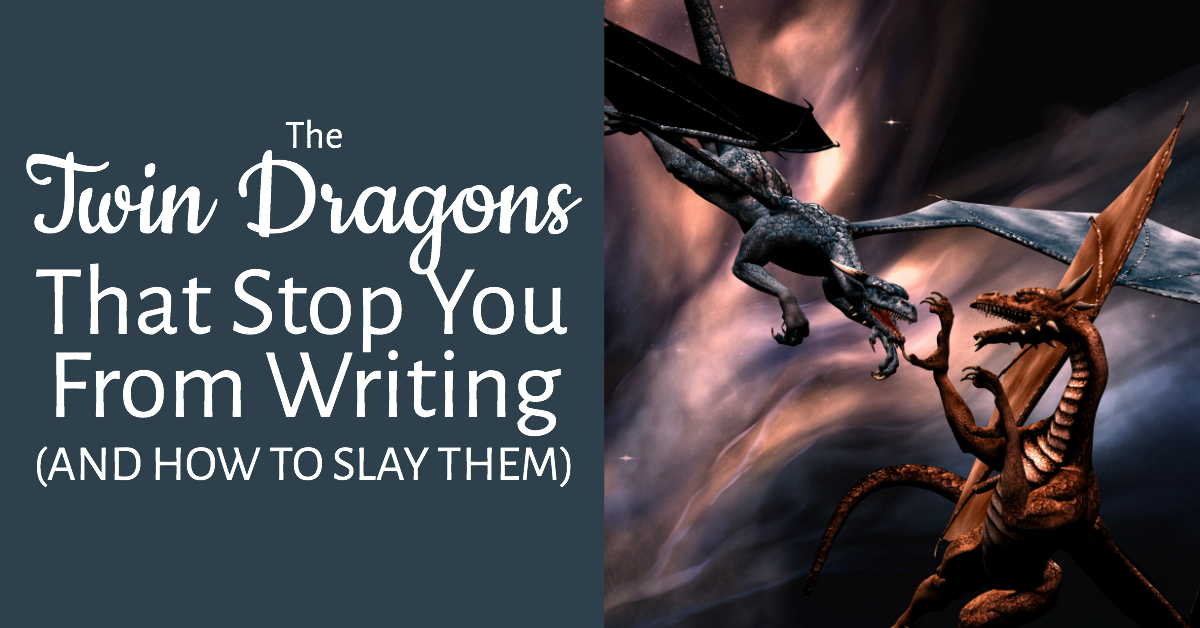 Since I started offering content writing and copywriting services to my clients a few months ago, I've been doing a lot more writing in my day-to-day tasks than I did before.
Every day, between ghostblogging, writing emails for my clients, preparing my own marketing content, and other content creation and copywriting tasks, I usually write at least 1000-1500 words at day – and sometimes it's more like 3,000 to 4,000 words.
Since my writing pace picked up, I noticed that I struggle with two significant psychological "dragons" on a regular basis:
Resistance and perfectionism.
It got me thinking: If I struggle with those two issues when I sit down to write, I'll bet my community members do, too – and I'm hoping to give you some advice on dealing with these common blocks when you sit down to write.
And if you're thinking, "I'm not really a writer. This advice doesn't apply to me," I want you to remember writing is a critical tool to have in your marketing toolbox. If you're marketing your business, you are writing on a regular basis.
You might be creating scripts for videos, podcast questions, online articles, or something else – but you are writing.
Ann Handley, in her brilliant book, Everybody Writes: Your Go-To Guide for Creating Ridiculously Good Content, said:
"Writing matters more now, not less. In an online world, our online words are our emissaries; they tell the world who we are…being able to communicate well in writing isn't just nice, it's a necessity. And it's also the oft-overlooked cornerstone of nearly all content marketing."
That said, writing can be challenging – and our own psychological blocks and quirks sometimes make it even more difficult.
Let's take a look at two common writing "dragons," and find out why they're so insidious – then I'll give you my best advice for trying to slay the dragons in order to reach your writing goals.
Dragon #1: Resistance
The resistance dragon fights with us and keeps us from doing the work we really want to do.
It makes us binge watch an entire season of Downton Abbey in one sitting. It's the dragon that says, "Why yes, Netflix – I would love to watch another episode! I think I'll grab another bag of chips and watch what happens with Lady Edith."
Resistance sneaks up on us and convinces us that we don't really want to write. That it's just too hard. Or that it's not worth doing. Or that we have all the time in the world to do it, so why not just wait a couple more hours and do something fun first?
My resistance dragon is what keeps me from doing assignments until the very, very last minute. My resistance talks me into using email as an escape hatch from my task list, instead of a tool for getting work done.
Battling resistance is tough, because resistance is persuasive.
Resistance makes me say, "This project is going to be incredibly hard and uncomfortable, so I'll look over here at this shiny thing instead of working on it."
Resistance makes us forget what it's important, and forget that we actually feel a sense of enormous satisfaction when we write.
This dragon wants to run the show. It can stop you from beginning your writing project, then try to stop you in the middle of your writing project. And if you get close to the end of your project, resistance can stop you from finishing it.
Resistance will hold you back every step of the way, if you let it.
Dragon #2: Perfectionism
The perfectionism dragon is just as nasty.
The inner voice of perfectionism in my head is led by a group of women I call "The Itty Bitty Shitty Committee."
Note: Many thanks to my friend and client Lori Wostl for coming up with that fantastic name. 
The women of my IBSC look over my shoulder while I'm writing and say:
"Passive voice – AGAIN?"

"You will never be as good as Jon Morrow or Glennon Doyle Melton, so why are you even trying?"

"You don't really think your readers are going to find that amusing – do you?"
The Itty Bitty Shitty Committee is every critic who told me I would never make a living with writing, that I wasn't creative enough, and that writing skills aren't valuable because "everyone can write."
My mental critics demand that I edit every article five times before I hand it in or hit "publish" on my site. They hate every blog post I write for a client and every email I send out for review.
My perfectionism can stop me from writing altogether, because when this dragon is particularly bad, it can make the experience of writing really miserable.
It makes me feel like I am trying to run a marathon through a river of wet cement. It feels like I'm never going to get where I want to go, and I may just die trying.
Don't Let the Dragons Stop You from Writing
Interestingly, procrastination and perfectionism rarely attack me at the same time.
This is a good thing, because if I had to simultaneously battle with massive procrastination and a mean schoolmarm whacking a virtual ruler across my fingers when I use poor grammar, I think I might have a breakdown.
No matter how these two dragons show up for you as a writer – they probably do appear in some way.
These dragons try to stop us from putting words on the page. They want to keep us quiet, they want to keep us stuck, and they want to keep us from being our best selves.
For many writers, their dragons are so intimidating that they don't write at all, or they stop writing, or they never publish their writing — and that's a crying shame.
So let's talk about two ways to battle these two dragons. 
Stand Up to the Resistance Dragon by Remembering What You Get Out of Writing
We get a lot more from writing than just seeing our names in print.
Yes, seeing my name on my book cover and seeing it on popular blogs when I write for them is a tremendous feeling. I still get a thrill. But that thrill is really just a tiny part of what I really get from writing.
Here's what else I get:
I get to (occasionally) go into a "flow state." When I'm writing well and making progress, I enter a kind of "flow" state where I lose track of time and feel completely absorbed in what I'm doing. Sometimes I look back on whole sections of a particular piece and say to myself, "Did I write that?" and it makes me wonder where creativity and big ideas come from. That's a really fun feeling.
I get to experience what it feels like after I've filled a page with words that are mine. Years ago, I told a friend that I don't actually like writing, but I like the feeling I get after I've written something. There is something insanely satisfying about going from a blank page to one that is filled with stuff that came out of my brain. I look at something I've written, and say "These words came out of my head, and they are only mine. They are wholly original, and no one else could've created them in this exact order." I think that's a fun feeling.
I get to call myself a writer and make a big part of my income from writing. Holy cow – how awesome is that? We live in a society that loves and idolizes writers. Yes, many writers are grossly underpaid. But doesn't everyone secretly want to quit their jobs and write books? And I get to write as a large part of my business. And that is AWESOME.
I get to improve at writing, a little bit at a time. Reading a lot and writing every day allows me the opportunity to continue to learn and get better as a writer. I'll never be a perfect writer – I don't believe anyone is – so I get the opportunity to do something every day that lets me practice an important thing that serves me personally and professionally. That's wonderful, too.
What do you get out of writing? Is it satisfaction, fulfillment, or income? Or something else entirely? Write your answers down on a piece of paper, and keep it somewhere where you get find it easily when you need it.
If you're struggling with resistance, grab your list and remind yourself why you really write. That list is your #1 weapon against the Resistance dragon.
Fight the Perfectionism Dragon Using Bad First Drafts
One of my favorite writers, Anne Lamott circumvents the perfectionism dragon by writing what she calls "shitty first drafts." In her wonderful book on writing, Bird by Bird: Some Instructions on Writing and Life, Anne says:
"For me and most of the other writers I know, writing is not rapturous. In fact, the only way I can get anything written at all is to write really, really shitty first drafts. The first draft is the child's draft, where you let it all pour out and then let it romp all over the place, knowing that no one is going to see it and that you can shape it later."
To write your own bad first draft, you simply write for a little while and get the words out on the page – and you never, EVER try to edit and write at the same time.
If you try to edit and write at the same time, you will get stopped by the perfectionism dragon, because your inner critic will scream so loudly that you won't be able to concentrate on anything else.
Anne Lamott admits that she still struggles with perfectionism, but her bad first draft process allows her to release herself from perfectionism's grasp longer enough to get something on the page – something she can work with and edit later.
As an aside, I want to mention that Ms. Lamott also mentions that when she writes a particularly horrific first draft, she mentally obsesses about getting hit by a car before she gets the chance to write a better second draft. I love this about her.
As for me, I would like to eventually like to write better first drafts, so I don't have to spend so much time editing later. It just seems to take so long. I would like to have perfect words, phrases, sentences and paragraphs drip effortlessly out of my fingers and onto the page.
But alas, I think there are few writers who can do that consistently. So I'm stuck with bad first drafts that I can turn into better final drafts.
If you're struggling with perfectionism when you sit down to write, give bad first drafts a try.
Get Ready to Battle Your Own Writing Dragons
I would love to tell you the magic words you can use to slay the dragons. Unfortunately, I can't.
The dragons are immortal, and even if you're close to killing them off on one particular day, you never know when they might come roaring back at full strength and threaten to roast you to a crisp on another day.
But practical tools – like Ms. Lamott's bad first drafts, and remember why you write – will help you put on your very own suit of armor every day. They will give you a shield and a gigantic sword to carry into battle.
So when those dragons come, you'll be ready.