It's time for another Marketing Maven round-up list!
Every few months, I publish a list of three things I really like in the world of online marketing and entrepreneurship. If you'd like to read more about this list got started, click here.
For today's list, I'm featuring a post that will help you fix your social media images, an inspiring new podcast, and a life-changing (yes, really!) tool that will transform the way you manage your money.
Let's get started!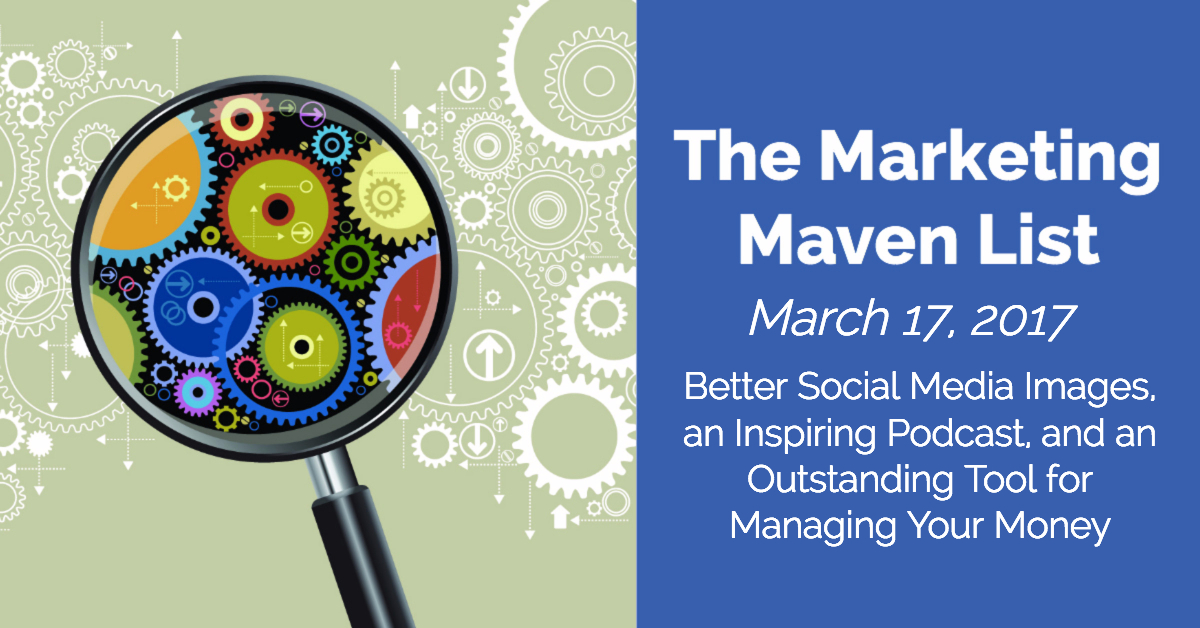 BLOG POST: "How to Fix Social Media Images That Aren't Doing Their Job," by Pamela Wilson
What I love about following Pamela Wilson's blog (BigBrandSystem.com) is that I learn something new from her every single week – and she didn't disappoint with this new post about powering up your social media images!
When you use images as part of your online marketing strategy, those images have very specific jobs to do: They are supposed to establish your presence, increase brand recognition, and propel your audience to take action.
If your images for social media aren't doing their jobs, then unfortunately you're wasting your time when you create them!
In Pamela's post, she breaks down exactly how your images can turbocharge your traffic and sales – and gives some educational (and fun) examples of hard-working, effective social media images. Check out the full post right here.
Bonus Maven item: Pamela will soon be launching a new class called The Image Lab that is all about creating powerful, compelling images for the web. I'll be telling you more about it soon, so stay tuned for that!
PODCAST: How I Built This
"How I Built This" is one of NPR's newest podcasts, and I simply LOVE it. It's hosted by Guy Raz (who also hosts the TED Radio Hour), and he shares stories of entrepreneurs, empire-builders, and other dreamers who have worked hard to create incredible things.
Some of my favorite episodes so far have featured the founders of Warby Parker, Honest Tea, and Melissa and Doug.
You can listen to this podcast on iTunes, or look for it on your favorite smartphone podcasting app.
TOOL: You Need a Budget
I know, I know. No one cares about budgeting – and you might be asking, why do you need an online tool to budget, anyway? Can't I just create a budget with a pencil and paper?
Yes, you can. But this tool, You Need a Budget, is far more than just a budgeting tool – it's a way to manage your money and make it work harder for you.
If I'm being completely honest, my money management skills are not as good as they could be, and I always hated the thought of tracking what I spend and planning a budget. But after spending just a few days using this tool, I was hooked. They actually manage to make money management fun.
There's something about the way YNAB does things that simply works with the way I think. And the good news is, it's all about giving your money a job – not spending time creating some completely unrealistic budget you'll never be able to stick to.
You can get a free trial for YNAB by clicking here – then after 30 days, you'll pay just $50 a year. YNAB's website says that on average, new budgeters save $200 in their first month, and more than $3,330 by month nine – so to me, that's a no brainer.
Got ideas for the Marketing Maven List?
If you have a tool, blog post, podcast or other idea you'd like me to consider adding to future Marketing Maven Lists, feel free to submit it to me using this page. Just tell me a little about your submission and why you recommend it, and make sure you include a link.