On July 23rd of this year, I deleted over 2,000 names from my email list.
It wasn't an accident. I didn't get hacked, and it wasn't a glitch. I did it intentionally.
Why would I do such an insane thing, you ask?
I deleted those contacts because I made a conscious choice to get rid of subscribers who were no longer engaging with my emails, attending my webinars, or buying my products.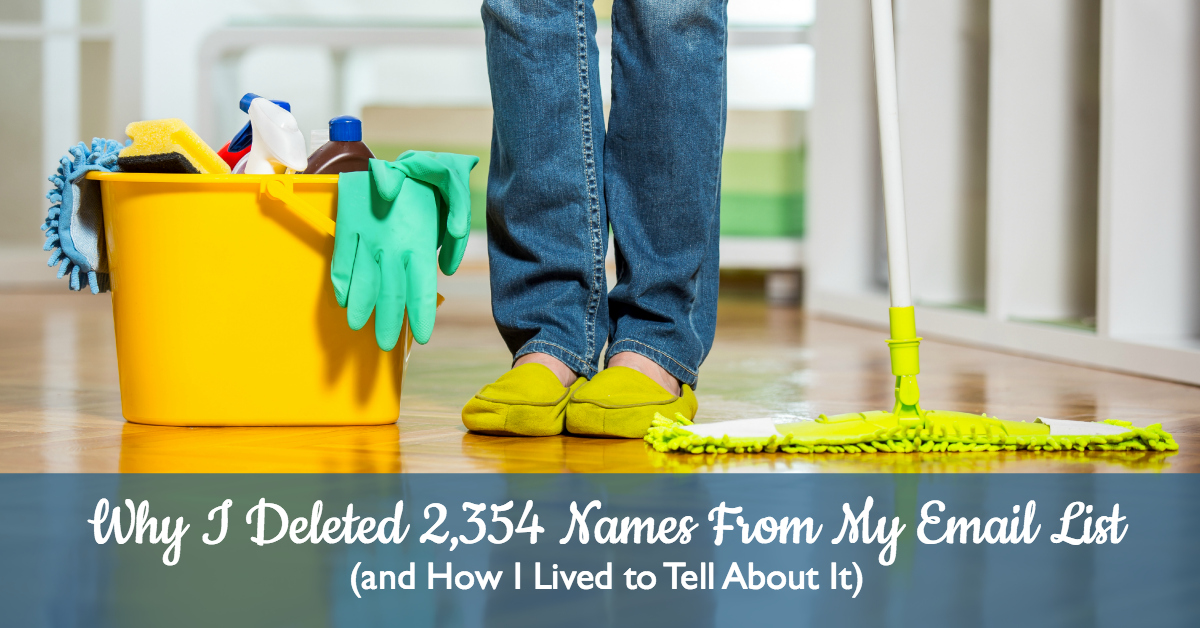 How My Accountability Partner Convinced Me to Clean Up My List
Warren Talbot (of MarriedwithLuggage.com) is my accountability partner, and he happily kicks my butt every two weeks. He motivates, he cheers, he pushes, he cajoles.
And when we started working together in January of this year, Warren almost immediately asked me when I was going to perform a clean up process on my list of over 6,000 subscribers.
I'll admit it – I resisted. I whined, I made excuses, and I avoided the question every time he brought it up. I have been in business for 8 years, and I had never cleaned up my list before.
But to Warren's credit, he kept nudging me to do it anyway.
Eventually, I decided to do it, despite my reservations. I wanted to stop avoiding the issue and pretending it was going to go away.
Why You Should Consider Cleaning Up Your Email List
There are a lot of reasons you might want to do a bit of list maintenance (also called list hygiene or list clean up).
If you've been building your list for a while (a year or more) you probably have some subscribers who haven't opened or clicked on an email from you in months.
It's possible some of these folks are sending your marketing emails directly into a filtered folder in Gmail or Outlook, or they might be deleting your emails without opening or reading them at all.
Naomi Dunford and Dave Navarro of Ittybiz.com call this phenomenon "list bloat" and there are a lot of good reasons to try to get rid of it. Read this article by Naomi and Dave if you'd like to see their take on why you should do list maintenance on a regular basis. It's a great read.
Here are a few reasons you may want to consider cleaning up your list:
1. Inactive subscribers might be costing you money. A lot of popular email service providers (like Constant Contact and AWeber) charge you more when your list exceeds a certain amount of subscribers. If you have people on your list who never open or read your emails, kicking them to the virtual curb may bring down the amount of money you need to give to your ESP each month.
2. List bloat is confusing and frustrating. At the beginning of July, I had over 6,000 people on my email list. Every time I would send out a promotion or a piece of new content, I would be completely flummoxed by the low response rate. I didn't understand why my open rate hardly ever went past 20%, why hardly anyone clicked on the links in my emails, and why some of my product launches seemed to absolutely flop.
The monologue in my head went something like this:
"If I have 6,000 subscribers, WHY IS NO ONE BUYING??"
By getting rid of inactive subscribers and people who are probably never going to buy from me, I can get a significantly more realistic picture of which subscribers are active members of my community. This also gives me a better idea of who is actually likely to purchase my products and services.
3. Getting rid of "dead weight" subscribers can lower the amount of negative feedback you get. When you're sending emails only to people who are truly engaged members of your community, the likelihood that someone is going to label your email as spam is significantly lower.
You will also get fewer complaints via email from subscribers who don't like your emails or want to complain when you send relevant offers. In short – fewer complainers means less energy spent on negative people.
How I Cleaned Up My List, and Why I'm Glad I Did
So after many months of Warren's nagging gentle nudging, I was finally ready to make the leap and do some long-overdue list reduction.
I use Infusionsoft as my email service provider and my shopping cart, so it was relatively easy to take these steps using their built-in tools. If you use a different ESP, you may need to figure out the simplest way to accomplish these tasks. Check with your ESP's tech support team for more information.
Get Your Free Case Study: How One Blogger Added 600 New Subscribers to Her List >>
STEP ONE: Get rid of all bad addresses and people who have unsubscribed.
Here are the steps I took to do that with my list:
I ran a report to see all of my "hard bounces," and deleted all of those subscribers. "Hard bounces" are addresses that have permanent problems. Either the address is no longer valid, or the recipient has blocked my emails, or the domain is bad. After I ran a report in Infusionsoft to find these bad addresses, I deleted all of these from my database.
Delete everyone who opted out of your list. If someone unsubscribed from my list or labeled my email as spam in their email client, I deleted them, too.
Some ESP's will delete these unsubscribers automatically, so you may not need to do this. Infusionsoft keeps these people in my database and requires me to delete them manually, so that's what I did in this step.
STEP TWO: Find the people who are actively engaging with my marketing messages.
Now you need to run a few reports to find the people who recently engaged with your messages in some way. I ran reports in Infusionsoft to find everyone who did one of the following in the past six months:
Opened an email from me
Clicked on a link in one of my emails
Purchased a product or coaching package from me
Signed up for my list in the last six months using one of my opt-in forms (signed up for a free report, webinar, etc)
All of the people who fit one of the criteria above got tagged as "Engaged" in my email service provider. Infusionsoft's tagging function made it easy to label these people in bulk — again, check with your ESP about ways to do this with your list.
STEP THREE: Write to everyone else and ask them if they would like to stay on my list.
Once you have deleted all the permanently bad addresses, and labeled all the people are already engaged with you, you have a sub-list of people who are left who don't fit any of the above criteria. Let's call those folks the "Leftovers," for lack of a better term. Now it's time to get the slightly more painful part. You can either:
Delete all the leftovers right now, or
Take one extra step to write to all the "Leftovers" and ask them if they'd like to stay on your list.
I decided to go with option 2. This is the email I sent to my "Leftovers" group":
"Hi there!
I'm doing a bit of semi-annual list maintenance, and I'm writing to you to see if you'd like to stay on my list.
Here's how this works:
1. If you want to be DROPPED from my list, you don't need to do anything at all. In two days, you'll be deleted from my database and you'll never hear from me (via email) again.
2. If you'd like to STAY on my list, all you need to do is click on this link, then click on the green button on that page and fill out a little itty bitty form. If you do that in the next two days, you'll stay on my list and continue to get my great content, offers for free webinars, and notifications about my upcoming courses.
Here's the link to stay on this list, one more time.
Questions about this process? Just hit "reply" to this email and let me know what's going on, and I'll get back to you right away.
Thanks so much! Cheers, Beth"
In this email, I invited people to stay on the list by clicking over to a landing page and signing up to stay on my list. This is a screenshot of my "Stay on My List" landing page: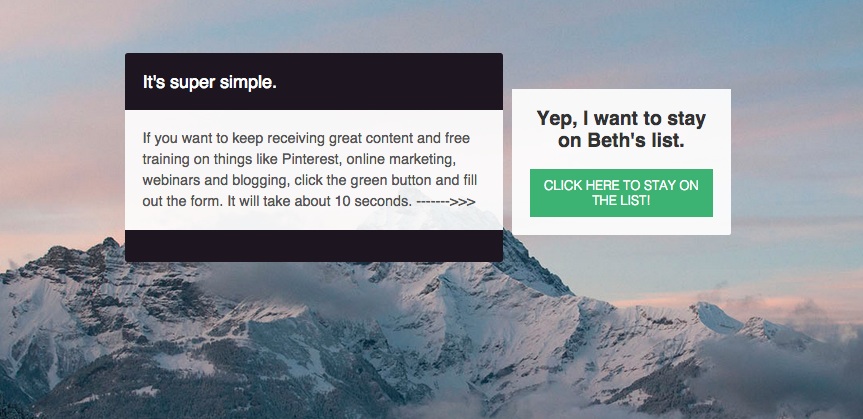 I sent this email to my "Leftovers" list (which included about 2,400 people), and about 100 of those people decided to stay on my list by entering their email addresses on this landing page.
That number is pretty low. I'll admit, I was disappointed. But I'm trying not to take it personally.
I try to remember that I unsubscribe from MANY email lists – I feel like I unsubscribe from at least one newsletter every day – and it doesn't mean I don't like the newsletter author, or that I don't respect what they are doing. I am simply buried in email, just like everyone else.
STEP FOUR: Delete all of the "Leftovers" people who didn't specifically say they wanted to stay on my list.
After I sent the email above, sending people to my "Stay on My List" landing page, I waited two days, then deleted everyone who hadn't indicated they wanted to stay a subscriber. That means on list clean-up day, I deleted 2,354 of my subscribers.
Why Deleting Subscribers Is Incredibly Difficult
And I'll be honest with you – deleting those subscribers from my Infusionsoft database was ROUGH.
To me, the numbers of my email list are a big indicator of how well my business is doing. So the idea that I would voluntarily cut my list from 6,000 down to 4,000, in one fell swoop? I thought it was a little nuts.
I understood the logic, but I still thought it was crazy. But I did it. I deleted those subscribers.
For about 30 minutes after I hit the "delete" key, I felt like I had made a huge mistake. What if I deleted someone who actually wanted to be on my list? What if I lost business? All kinds of worst-case-scenario questions ran through my head.
Then, after about 30 minutes of feeling panicky, I felt a sense of calm come over me. I had a really important revelation: I didn't delete active subscribers. I deleted people who didn't open or click on my emails, and were probably NEVER going to buy from me.
The Massive Upside of Cleaning Up Your List
Now that I've cleaned up my list and gotten past the negative baggage about it, I actually feel great about the whole process.
I've accepted my new subscriber number as my current reality, and it feels just fine.
My open rate has increased, and my unsubscribe rate has gone down. And that feels pretty great.
These days, I don't think about the fact that I deleted a bunch of subscribers. I just try to take great care of the ones I kept – the active, engaged members of my community.
I try to send my subscribers quality content and relevant offers on a regular basis, and try to build the best possible relationship with every member of my list.
If you're considering cleaning up your list — and getting rid of your own "list bloat" — I highly encourage you to do it.
It's a great move for your business, and you'll feel better about the subscribers that stick around. And that's the best outcome at all.
---
Want to know how to get more subscribers to your list? Read this interview with blogger and writer Lacy Boggs, who added 600 new subscribers to her list just by taking ONE brave step!
Click Here to Get Lacy's Story Instantly! >>>