This post is to give you a little update on my August writing experiment, and let you know what lessons I've learned so far.
Backstory: For those who are just tuning in, I set a goal to write 30,000 words during the month of August, and I've been updating my community as I pursue my goal.
Here's the update, according to the numbers from today (August 21st, 2015):
So far this month, I've written 23,072 words.
I've spent a little under 15 hours writing those words.
My average writing speed is 1550 words per hour.
I feel pretty pleased with my progress, and I'm delighted to say that I haven't missed a single day of writing this month.
I've written approximately 1,000 words a day for 21 days straight, and I have no plans to quit any time soon. I feel pretty confident I'll be able to hit my goal of 30,000 words.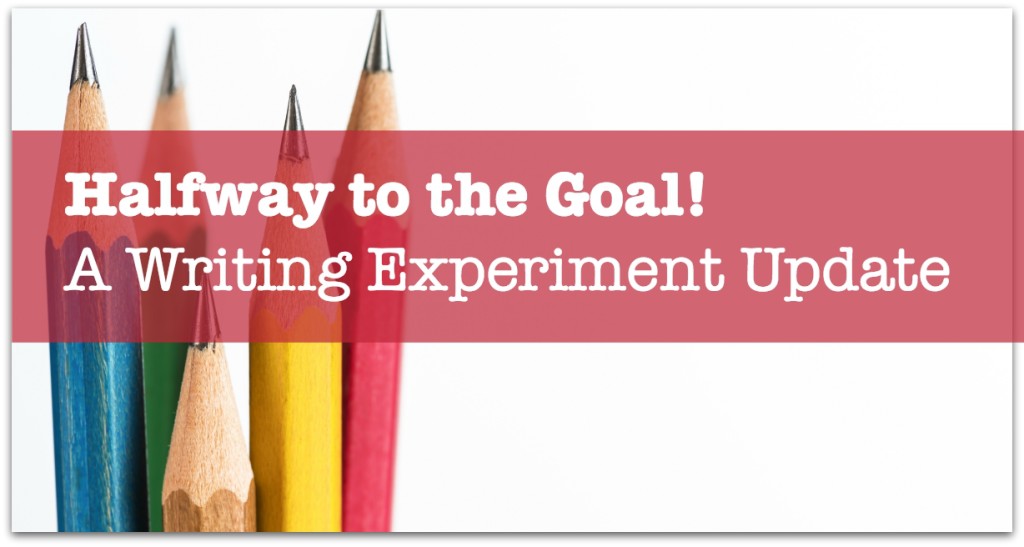 Here's what I've noticed during the first half of this experiment:
1. I definitely write significantly better (and have more fun writing) when I don't procrastinate. If I wait until 11:00 PM to get my writing done (especially if completing the writing is the only thing standing between me and getting some sleep), it's certainly not much fun to open my computer and try to crank out a thousand words.
I've noticed the quality of the writing suffers when I write late at night, too — probably because I'm just pounding out words in order to get to the goal.
If I write earlier in the day when I'm more energized and inspired, it's a heck of a lot more fun to write, and I create better quality pieces.
2. I've decided it's okay to occasionally write for fun, instead of always creating blog posts, content for my classes, or writing assignments.
A few days ago, I wrote for 20 minutes on the topic of "Snow," and I had a great time with it. The essay I ended up writing certainly isn't literature, and it's not usable as a blog post, but there are a couple of good lines in it.
I've decided to let myself have a few lighter, creative breaks during this month — especially when I'm not in the mood to write and have to give myself a little extra push to start typing.
3. I'm getting faster. I have noticed that the "Words Per Hour" number on my writing log spreadsheet is increasing each day, so I believe all this practice is paying off!
4. I like to write, but during this challenge, sometimes I just have to force myself to get the words done. I made a deal with myself that I would write every day this month – and I am honoring that – but it's not always fun.There are days when I wish I could do something else with that writing time.
We're at the tail end of summer break for my kiddo, and there are times when I feel like my work time is at a real premium. Sometimes it feels a little wasteful to use my working time to write one more blog post, when I've already got six others in the hopper that need to be edited and published on the site.
5. Which brings me to my next point: I've discovered that editing, polishing and publishing a blog post takes a long time. I never realized how much time I spend tweaking and publishing my posts. It's taking me a long time to go through that whole process for the posts I've written during this challenge. Right now, I have a backlog of posts I've written this month that need to be edited and published, so I need to build time into my work schedule to do that.
6. Writing every day is incredibly satisfying. I feel like I really accomplish something every day. If I add 1,000 words (or more!) to my writing log each night, I feel satisfied. I love seeing my total number of words creep closer to 30,000, day by day. Even if I don't do anything with the rest of my day other than put out fires or battle my email inbox, I know at least I've completed my words. And that's pretty great.
Need a Writing Guide? Try the Free Write Fling
A few of you have asked whether I will be doing a 30-day writing challenge for my audience at some point. I'm considering it, but in the meantime, I want to give you a fantastic resource if you'd like to jump into guided writing practice.
Cynthia Morris, a creativity and writing coach, runs a program called the Free Write Fling several times a year, and it's wonderful. The goal is for everyone in the program to write a little bit every day, and Cynthia sends you daily writing reminders and encouragement during the month of the program.
Cynthia's next Free Write Fling is happening in October, and you can find out more here.
Want to know what I think so far?
Look for a post from me at the end of this month to wrap up the experiment and give you my final conclusions. But right now, at the midpoint in my experiment, I can say this:
Writing every day is tough. It is satisfying. And it is worth it.