One of my clients recently told me a story that broke my heart.
This client (I'll call her "Sasha") had just spent 3 months developing an online product. She worked diligently to put together the online course she thought her audience needed, and put her heart and soul into every lesson.
But when she finished the course and launched it to her list of 100 subscribers, only 2 people bought the course.
She was devastated after her failed launch, and she was also in a BIG financial bind. She'd been counting on the income from her course launch to offset the many months she'd spent in course-building mode (when she wasn't making any money at all).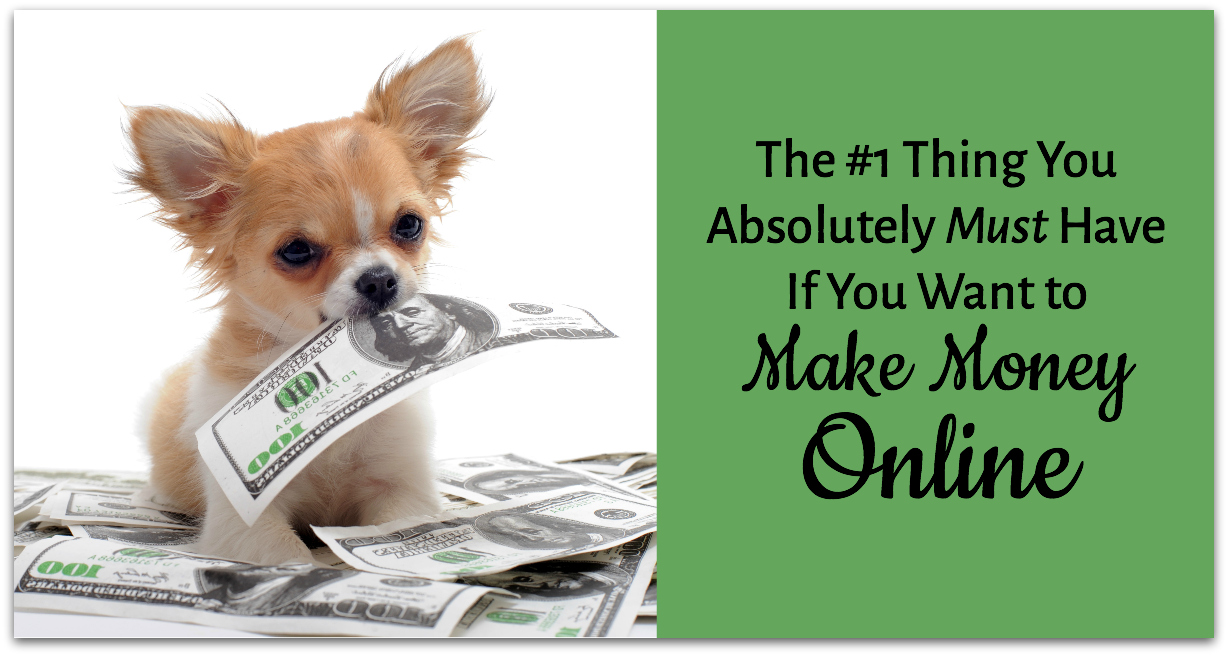 And just a couple of days later, I heard a similar story from another client. Jack is a fiction author who had launched a book six months prior to our call, and he was disappointed with his lagging sales.
He'd worked for years on this first novel, and when the big day came to launch his book, he sold a few copies (mostly to his friends, family and social media followers) but the book didn't rank well on Amazon, and after launch day the sales had trickled down to nothing.
These two client anecdotes might sound like completely different situations, but at the heart of each of these two stories is the exact same problem.
What went wrong, you ask?
Neither of these folks had the most important thing you need when you're selling something online – whether you're selling a book, an online course, a service, or a physical product.
What you need if you're going to make money online is an audience.
What do I mean when I say "audience"?
I mean a group of people who visit your website, receive your email messages, or follow you on social media. Preferably, you want to attract a group of people who do all three.
I'm talking about a group of people who like you, like what you do, and can't wait to buy from you.
The Radical Transformation That Happens When You Have an Audience
If Sasha would have had an audience in the first scenario, she might have been able to run a pilot version of her course before she built the whole thing — so she would have known whether or not people were interested in that topic.
She could've gotten feedback on the course as she taught it the first time, and made sure the idea and the course were 100% validated before she tried to do a major launch. And when she did launch the full version of her course, she would've had a large email list of people who couldn't wait to buy it, so she potentially could've have had a 5-figure course launch.
And if Jack had attracted a large following of people who loved his work and couldn't wait to buy his book, his book launch would've gone quite differently.
He could've sold hundreds (or thousands) of copies during his book launch, could've ranked better on Amazon for his book topic, and might have been smiling and collecting royalty checks 6 months after the launch, instead of scratching his head and wondering what the heck went wrong. He could've started working on his next novel, knowing he had a hungry audience of people who were excited to buy his second book.
I've been doing a LOT of one-on-one coaching over the last year, and what I've noticed is that almost everyone I talk to has the same problem: They need an audience.
If you want to fill webinars with hundreds (or thousands) of passionate participants, you must have an audience.
If you want to have a 5-figure (or 6-figure) launch of your first online class, you must have audience.
If you want to get support and donations for your non-profit, you need an audience who care about what you're doing and are willing to support you.
If you want to make money from affiliate sales or online advertising, you must have regular, consistent traffic to your site (which means, you need an audience).
If you want to sell a physical product, WordPress plugin, or piece of software, you must have an audience of people who want to buy it.
I sound like a broken record – right? I repeat it because you ALWAYS need an audience, no matter what you're trying to accomplish with online marketing.
So how do you build an audience? How do you attract a community of people who know, like, and trust you? Folks who absolutely can't wait to buy from you?
Of course, that's the tricky part. Growing an audience is not easy, and it's not for the faint of heart. But it is hugely rewarding, and when it's done right, it can be incredibly lucrative, too.
The 4-Step Process for Building an Audience
Here are the four steps you need to take if you want to build an audience online:
Publish high-quality content on your website.
Drive traffic to your content.
Convert a portion of your website visitors into email subscribers.
Cultivate relationships with your subscribers by sending them regular content via email.
From there, you can do anything you want. You can:
Sell online courses
Sell your services as a coach, consultant or freelancers
Launch your book
Offer a physical product
Create a membership site and sell spots using a monthly subscription model
Offer relevant affiliate products or services
The sky's the limit, once you have an audience — but there are no shortcuts. You can't jump ahead, and you can't skip steps.
You also can't put the proverbial cart before the horse. Before you starting thinking about launch strategies, sales pages, promotional webinars, conversion rates, or A/B testing, you MUST build an audience by following these four steps.
Most people approach online marketing backwards – they build a product, program, or book first, then start looking around for people to sell it to. No wonder folks are frustrated when they can't make progress!
The other thing we need to be clear on is that you need to consistently keep doing steps 1 through 4, even after you've started offering products and services. When you're an online marketer, audience building never ends.
Building a strong community is a marathon, not a sprint. You ALWAYS need to be doing list-building and audience-building activities, no matter what niche you're in or how you're trying to make money online.
Discouraged? There Is Some Great News
There is good news, though. Because you know you must build an audience before you can make money online, it takes a lot of the mystery out of online marketing.
Having audience building as your first priority helps you decide what you should and should not pursue, when you're considering different online marketing options.
Perhaps you're considering re-writing the copy on your sales page for the tenth time. You can ask yourself, "Is my sales page the problem, or do I not have a large enough audience?" If the answer is the latter, you need to spend your time on audience-building activities, rather than grabbing your red pen for another edit.
Same with launches of any kind – before you write that book, create that course or build that physical product, ask yourself, "Do I have a community of people who can validate this idea, to make sure I'm on the right track?" If the answer is yes, GREAT! Ask them what they need, and build your product, book or program around their suggestions.
If the answer is no, focus on audience building first, before you go into your Creation Cave to begin building your widget.
Where to Go From Here
Audience building is a 4-step process – but of course, each of those steps can be complicated, especially if you're just starting out.
I'm about to launch an intensive course (tentatively called "Online Marketing 101") that focuses on how to implement these four steps, and it's perfect for anyone who needs to build an audience. You'll hear more about that over the next few weeks.
But for now, I want you to ask yourself, "Do I have a substantial audience of people who want to buy from me?" and if the answer is NO, I want you to go back to steps 1 through 4, above, and get cracking.
Your audience is out there, and they're waiting for you to put out the word. Don't let them down.
Focusing on growing your email list can be a great way to build your audience. If you want specific, actionable advice on how to get more email subscribers,
join us for the Great List-Building Challenge
. I've challenged myself to get to 16,000 subscribers by the end of the year, and the List-Building Challenge Community will get all my best tips and tricks along the way. If you want to build your list,
click here to join us.