I know, I know. You hate pop-ups, right?
I did for a long time, too.
For years, I took a pretty strong stance against pop-up opt-in forms. I kept hearing that you could bring in a lot of new subscribers with them, but to me, they just weren't worth it. I wasn't willing to annoy my readers and risk making a bad impression on my new visitors.
But over the past year, I've also been watching how many successful marketers use pop-up boxes to invite people to become subscribers – and how a lot of those folks seem to be growing gigantic lists. These are ethical, reputable people who have gotten past their own hang-ups about pop-ups, and seem to be reaping all the benefits without any major downsides (at least, none that I've seen).
And as part of my list-building challenge, I promised myself I would revisit the idea of using a pop-up box on my site, and figure out if I could use one in a way that didn't make me feel slimy and sleazy. This was difficult for me, because I've been some adamantly anti-pop-up for so long.
But declaring to the world that I am trying to reach 16,000 subscribers by the end of 2016 has been massively motivating, and it required that I revisit some previous list-building assumptions.
So I took a look at the data that's out there regarding pop-up forms (which I'll share in this post) and decided to give them a shot on my site. I wasn't convinced they would be part of my long-term online strategy, but I was curious to see what happened, and I wanted to share my experimentation with you.
I got some rather surprising results, and now I've started to change my thinking about pop-up boxes.
So let's take a look at what pop-up opt-in forms are, why they work, what the argument against them is, and what to think about if you decide to use them.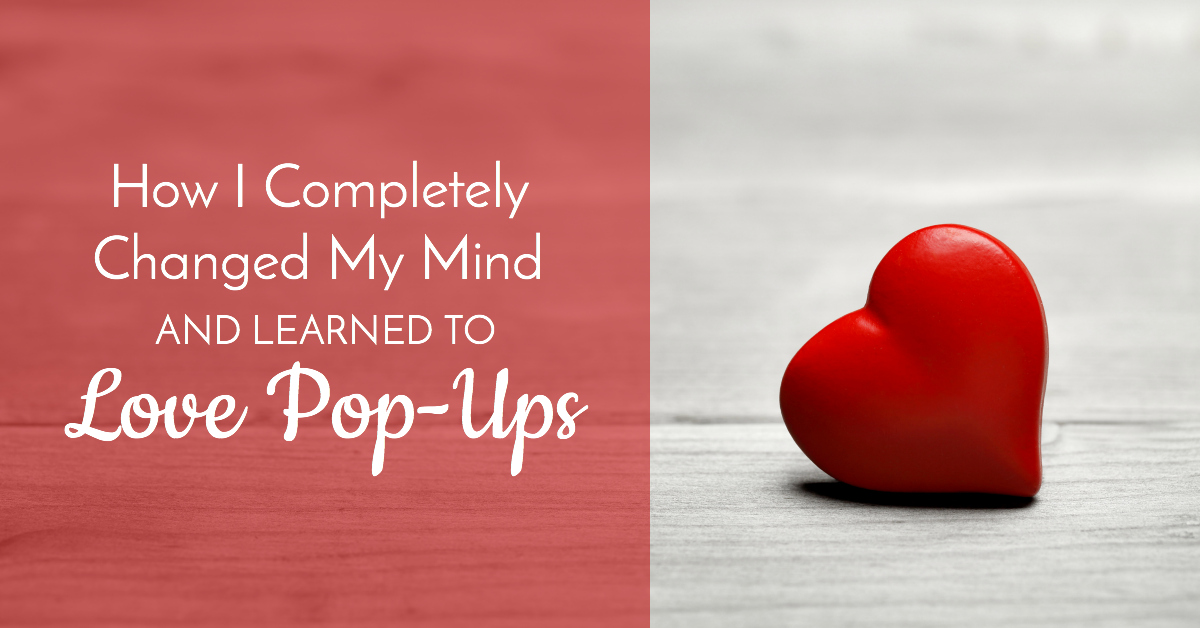 What Are Pop-Ups?
For the purposes of this article, I want to make a distinction between pop-ups and other types of opt-in forms.
What I'm talking about in this piece as pop-up opt-in forms that appear automatically, without the reader having to click on something or take a particular action. A pop-up normally obscures part (or all) of the screen, and the reader can't consume the content on your page (or do anything else on the site) unless they fill out the form or close the pop-up form.
You can see an example of the kind of pop-up I'm talking about by going to MarieForleo.com and waiting about 10 seconds. Marie's pop-up looks like this: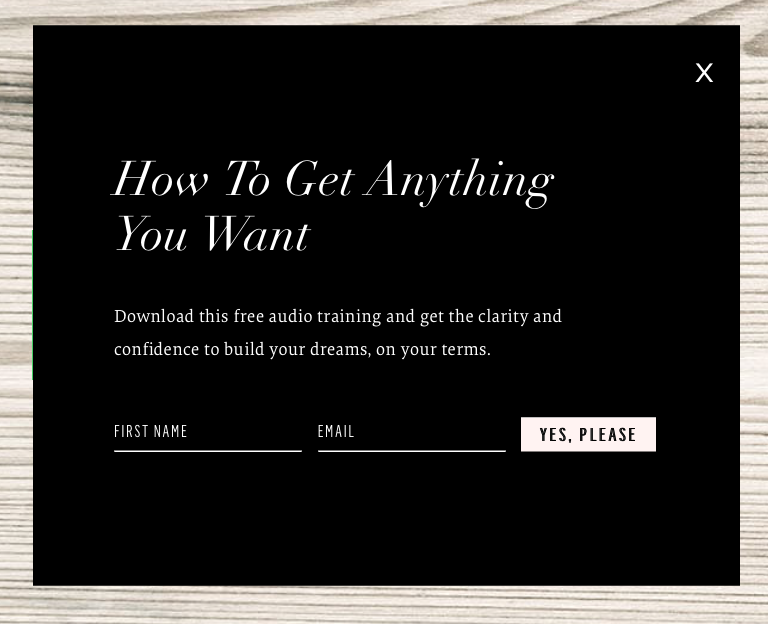 These days, we usually see pop-up boxes that ask readers to join the site owner's list. Sometimes the business owner is advertising a free giveaway (like Marie's free audio training, above), and sometimes they're just saying, "Sign up for free updates in your inbox!"
Another popular style of pop-up is a "Welcome Gate" or "Screen Filler" opt-in form. These opt-in forms temporarily take up the full screen (and sometimes they're transparent, so you can see a little bit of the site behind the form). You can see an example of a Welcome Gate form right here.
No matter what style you're using (or what you're offering) the goal is clear – pop-ups are designed to capture visitors' email addresses.
Why Pop-Up Boxes Have an Understandably Bad Reputation
Pop-up advertising has been around for a long time. Back in the mid-1990's (right around the time people were regularly starting to create and view web pages), companies started deploying pop-up advertising on their sites as a way to get more eyeballs on their ads.
Remember when we had to virtual whack-a-mole with endless pop-up ads, just to read a web page? Regular pop-up advertising has mostly gone the way of the dinosaur these days – so we rarely see them as a mechanism for delivering banner ad-style advertisements. They're certainly not as big of a problem as they were in the early days of the web.
But there's one place where we still consistently see pop-ups, and that's in the world of opt-in forms (like what we're talking about in this post).
I get why they annoy people. I really, really do – especially given their sordid history.
But the trouble is – pop-ups work.
This study on CrazyEgg found that pop-ups drive 1375% more subscribers than sidebar opt-in forms.
Darren Rowse (of Problogger) implemented a pop-up on his hugely popular digital photography blog, and saw an immediate increase in his daily sign-ups. He went from getting 40 daily email subscribers to consistently bringing in over 350 – every day. And he got that increase without seeing a noticeable drop in readership or engagement.
Long story short: People say they hate pop-ups. I'll probably get some people who express their utter hatred for pop-ups in the comments section of this post. But our behavior says otherwise, when we put pop-ups to the test.
When you look at the data, people seem to mind pop-ups a lot less than we think.
My Pop-Up Experiment
After looking at these stories and carefully considering the potentially downsides, I decided to go ahead and experiment with using pop-up sign-up forms on my site.
I really like the pop-up that Neil Patel uses, so I looked for a similar "Welcome Gate" style for my first pop-up.
I set up my Welcome Gate pop-up so that people could click out of it easily, and then not see again for a specified number of days (in my case, 30 days). That was important to me, because I didn't want to constantly badger people with my pop-up.
I also put a second, slightly different pop-up on one individual article on my site – my controversial post on Facebook Page Likes.
This post consistently pulls in a steady stream of visitors, so I created a free giveaway called "8 Ways to Get More Facebook Likes (Without Annoying Your Family and Friends) and created a delayed pop-up that would offer that free gift after the visitor has read through most (or all) of the article.
Here's what the pop-up looked like: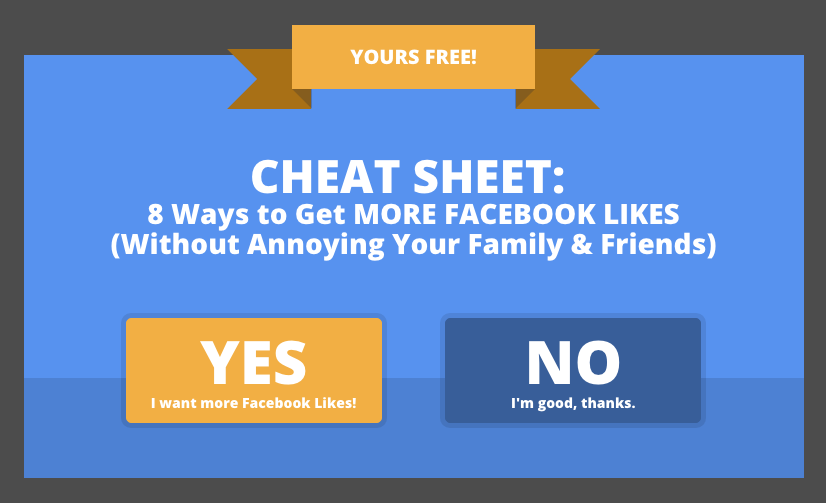 So I put my two pop-ups in place, took a deep breath, and waited.
The results
The Good News: 
The Welcome Gate pop-up has been a rousing success. Nearly 400 people signed up for my list-building challenge via the Welcome Gate — and that's just since the end of May.
Granted, some of those people weren't brand new subscribers — they were people who were already on my list, but wanted to join the special list I started for my challenge. But what's clear is that the pop-up is converting well and that people are responding to the offer.
Better yet, I've had NO complaints about the Welcome Gate. It seems that people who aren't interested in the challenge simply click out of the opt-in form, then go on to read the content on my site. This result backs up the data that I've seen, which says people don't mind a couple of seconds of delay if they're interested in what you have to say.
My conclusion: To me, this Welcome Gate opt-in form has been worth the potential risk. It's converting very well and I'm adding new subscribers every day. Since I've had no complaints and no drop in overall readership, I'm going to keep it in place for now.
The Bad News:
The not-so-great news is that the delayed pop-up box I put on my Facebook Page Likes post did seem to have a negative effect.
According to my Google Analytics data, the average time a visitor spend on that article, (when they landed on it from a social site or a search engine) was approximately 6 minutes. After I put the pop-up in place, it dropped down to zero – which meant people were landing on the post, then clicking away right away.
I thought this was kind of strange, considering I put the pop-up on a 60-second delay, but something was definitely wrong. So I dropped the pop-up from the page, and within a day, my average time on the article came right back up to its pre-pop-up levels.
My conclusion: I'm still trying to figure out what the issue on that pop-up was, because I would like to put additional content-specific pop-ups on some of my most popular pieces of content. I'll keep you posted on my progress as I test out more ideas and techniques.
4 Things to Remember If You're Going to Try Out a Pop-Up Box on Your Site
You need to decide for yourself whether or not you want to try out a pop-up opt-in form on your site – but given my results during this experiment, I'm definitely going to recommend that my clients consider doing a pop-up trial to see if they get positive results.
If you want to try out a pop-up, here are some things to keep in mind:
Give something away that is valuable to people. It's far easier to get people to sign up for your list (regardless of whether or not you use a pop-up) when you're offering a free incentive like a tutorial, cheat sheet, report, video, or audio training.
Consider using a delay timer, if you can. I still think it's a good idea to let people consume some of your content before you hit them with a pop-up offer.
Test your pop-up on desktop AND mobile devices. People need to be able to get rid of your pop-up quickly and easily if they're not interested in your offer, regardless of what device they're using. I'm continually surprised by the amount of people who put pop-ups on their sites that are impossible to close from a mobile device. Don't make this mistake – test thoroughly.
If possible, change the settings on your pop-up so that when people close the pop-up without taking action, they won't see it again for at LEAST 30 days.
If you do try a pop-up (or you already use one, and you're getting good results) I'd love to hear about it! Let me know your thoughts in the comments below.
This month, participants of the list-building challenge got my recommendations for the best tools for adding pop-ups to their sites. Do you want to get the inside scoop, too?
Click here to join us for the challenge
, and get list-building advice I'm only sharing with the challenge community!